We started our New Year with the annual covenant service led by the Rev Miriam Moul.
Thanks to everyone who supported the coffee morning in January which raised more than £120 for the Winter Night Shelter.
Around 30 people were supported by the Night Shelter which took place at churches around Dover - including the Beacon - during the winter months (2018-19), providing warmth, food and shelter for those who might otherwise be sleeping rough. We are pleased that a number of them accepted help in various ways during that time and some have been rehoused, while others are awaiting dates to move into accommodation. Thanks to all the volunteers who helped with this initiative.
The presentation of prizes to the winners of the latest Beacon Church Art Competition took place in March. The theme of this year's competition was "Creation" and we are pleased to have received so many entries.
We had a very challenging and thought-provoking time during Lent in preparation for the excitement of Easter Day. The theme was The Mystery Of Everything. Our thanks to Miriam, Michelle and Dave for leading our thoughts especially at the discussion groups at their home. We joined with our Christian friends at River for the Holy Communion service on Maundy Thursday, and on Good Friday several families and children joined in an afternoon of activities.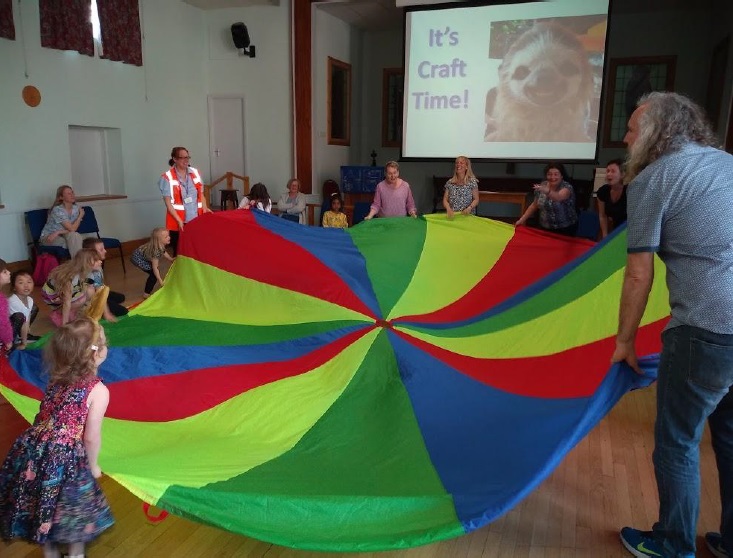 Good Friday was a wonderful time of fun and craft, learning and encounter, for children and their families. We acted out Palm Sunday and waved branches and then watched a film of the Easter story. We talked about the importance of saying sorry to one another and to God. We sang lots of action songs.

We made Easter wreaths and 'He is Risen' cones, filled with chicks and chocolate eggs. We played games using the parachute, egg and spoon races, and a 'run around now' quiz. We finished with an Easter Egg Hunt and then a time of prayer.
Our hall was beautifully decorated for Easter Sunday when Miriam and Michelle led our worship and we shared in Holy Communion. It was good to welcome some visitors to our service that day.
Our Community Art Group was set up at the beginning of the year and got off to a cracking start with several people really enjoying the experience of painting and drawing together, in a calm atmosphere among friends.

We held our first CAP (Christians Against Poverty) Money Course in April helping people to budget, save and spend wisely.
In May we held our first Cafè Church service, sitting around tables and having refreshments at the beginning. We hope this will encourage families to come and join us. It is a different, more informal time of worship, but we hope both "newcomers" and regular church goers will find it interesting and inspiring. Whatever form our worship takes, the focus will always continue to be to encounter God together.
During the year our Community Table initiative on Sundays proved increasingly popular, feeding between 14 and 49 people every Sunday since March 2018. It is very well received by all guests and volunteers. There is a wonderful sense of community and compassion. There are on average seven volunteers every Sunday. Developments have included the monthly visit of a foot care specialist and hair-cuts. Volunteers were always welcome - even if only for some washing up!
Also proving popular are the regular SNAP sessions on Tuesday afternoons with four to seven people attending every week. As well as refreshments and the regular shower and clothes-washing facilities, we offer monthly hair-cuts. Developments include funding from Dover District Council for a new washing machine and tumble dryer. The service is much needed and greatly appreciated by all who attend.
The Youth Coffee Bar is also going really well on Friday evenings. We regularly have 25 young people, mostly from the Slovakian community aged 12 and over. Each week we are blessed to have live Slovak folk music using keyboards, guitar and singing!
We held two sales during the year with goods donated by Aldi. These raised several hundreds of pounds to help finance our work, and we are very grateful to Aldi for making this possible.
Deacon Michelle had become chairman of the London Road Community Forum which was given a boost during the year and volunteers, including local residents and members of The Beacon, joined forces to clean a section of the London Road of litter and graffiti. They were also joined by the Mayor of Dover, the Community Project Officer from the district council and our local county council Community Warden. Our presence provoked many conversations with members of the public who were pleased to see what we were doing. The Clean Up came out of the "Take Pride in London Road" initiative, when the people present noted speeding and rubbish as the priority issues observed. Local residents are training to take part in Speedwatch, encouraging drivers to drive safely and responsibly, sticking to the 30-mile-an-hour speed limit. We believe that we can make a difference when we all work together and accept a sense of responsibility to help our community be, and look, the best it can be.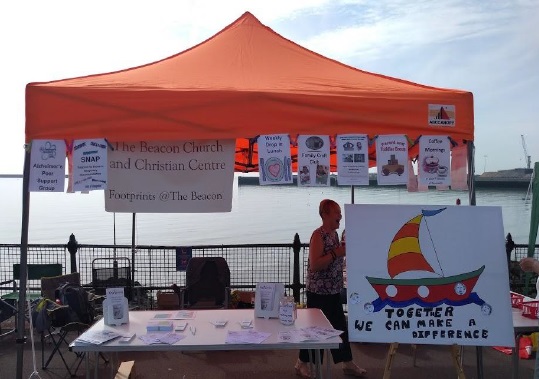 The Beacon was one of the many organisations who had a stand at the Port of Dover Community Regatta in July (pictured left), which gave us the chance to tell hundreds of people about the activities that take place here. we enjoyed watching the various displays that were taking place in the harbour, and some of our members tackled the giant inflatable assault course. It was a great day!
In August, we were delighted to hold our first wedding at The Beacon for some time, when Sarah and David were married. It was a wonderful service.
We were successful in acquiring several grants during the summer of 2019, including £400 from The Raymond Cook Fund for resources for the weekly Family Craft Club, £687 from Dover District Council Community Grant Scheme towards a Cooking on a Budget Course, and £3,272 from Lawson Endowment for Kent, through Kent Community Foundation, for the Youth Coffee Bar over two years. We are very grateful for this support which shows confidence in all we are doing here at The Beacon.
We were pleased to welcome two pilgrims who called in at Footprints on Sunday 1 December. They had walked from Italy and were on their way to London, calling in at Canterbury Cathedral on their way. People attending the Community Lunch had an interesting chat with them.
Thanks to all our members, and others connected with our church, who supported the Love In A Box project and brought more than 40 boxes filled with goodies to send to children in other countries who would not otherwise receive any gifts at Christmas. To learn more about this project, watch this very moving video here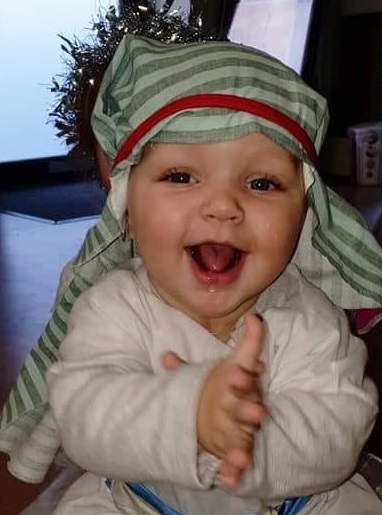 We had a very special time at Christmas, starting with our Nativity Service which included a play by Creative Church called "Stable Memories". This took a fresh look at the first Christmas Day, being set on Jesus's first birthday, with the Angels, Shepherds and Wise Men all coming to wish him a happy birthday, and remembering what had happened the year before when they saw him in the stable in Bethlehem.
Our Candlelight Carol Service was well attended by people who enjoyed singing many of our favourite carols and listening to traditional and contemporary readings reminding us of the true meaning of Christmas, why Jesus came and the opportunities it gives us to show God's love to others.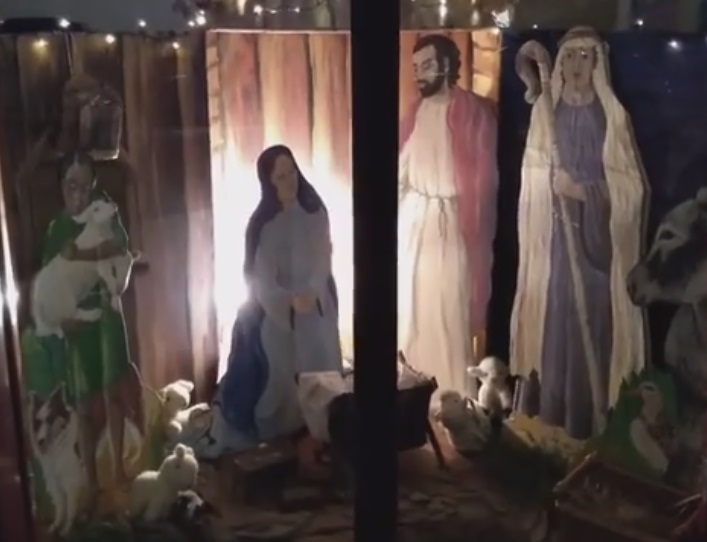 On Christmas Day Deacon Michelle led our family service when we thought about the Light that came into the world when Jesus was born, and - with the aid of glow sticks - we recalled how sometimes we have to be broken to see that Light, and how He comes into broken situations.
We are grateful to Glenys and Paul Jeff for creating this beautiful Nativity Scene in the entrance to Footprints. Click here to watch a video of it