"The Beacon reflects Christ's light, shares God's love and serves the community."
Welcome to The Beacon Church and Christian Centre in Dover.
We are now worshipping together again on Sunday mornings at 10.30am. All are welcome to come and join us.
In the light of the current coronavirus advice, please wear a face mask when moving around inside the church buildings.
Please use the Bartholomew Street entrance (CT16 2LH).
Our service this week (5 December, Second Sunday of Advent) - Rev Catherine Wagstaff.
Creative Church will also be meeting in Footprints.
For the coming weeks, our worship will be led by:
12 December (Third Sunday of Advent) - Rev John Lines, including Holy Communion
19 December (Fourth Sunday of Advent) - Deacon Michelle Legumi (and Creative Church)
6.30pm - Carol Service with Rev Catherine Wagstaff and Deacon Michelle Legumi
Christmas Eve at 4.30pm - Christingle Service with Deacon Michelle Legumi
Christmas Day at 10am - Christmas Morning Service with Deacon Michelle Legumi
26 December at 10.30am - Service arranged by the stewards
2 January 2022 - Mrs Linda Beverton
9 January - Service arranged by the stewards
16 January - Covenant Service with the Rev Catherine Wagstaff
23 January - Deacon Michelle Legumi
30 January - Mrs Christine Barker
6 February - Rev Catherine Wagstaff (Gift Service)
13 February - Rev Gordon Newton (including Holy Communion)
20 February - Deacon Michelle Legumi
27 February - Rev Hilary Nabarro
Advent Bible Study
Our advent Bible study series will be held on Tuesdays 30 November and 7, 14, and 21 December - with two opportunities to attend! You are invited to the manse in River from 2:30 to 4pm where we can share an 'in person' time of study together and then the content will be repeated on Zoom each Tuesday evening between 7 and 8:30pm.
Everyone is invited as we share in fellowship and prepare ourselves for the event of Christmas.
Our material this year is entitled 'Songs of Advent' and we will be looking at the songs of Zechariah, Mary, the Angels and Simeon as 'sung' to us in Luke's Gospel. If anyone would like to see the material we will be using in advance, please ask the Rev Catherine Wagstaff or email hello@thebeaconchurch.org.uk – we can either email it to you or give you a copy but please don't worry if you would simply prefer to turn up and just listen/join in on the day.
We are pleased that some of our groups are now meeting again - the Craft Group on Thursday mornings from 9.30 to 11.30am, and Friendly Friday from 12.30pm. Do please come and join us, bring your lunch or a cuppa and have a chat meet others! We always end with a short reflection and name those people on our hearts and minds who need our prayer. We look forward to seeing.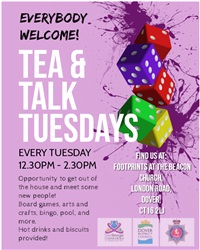 The Tea and Talk sessions have also resumed.
These are for people to get out of the house and meet some new people within the community.
The sessions run from 12.30 until 2.30pm every Tuesday.
We will have hot drinks, biscuits, board games and other activities.
Everyone is welcome; come alone or bring friends, the more the merrier!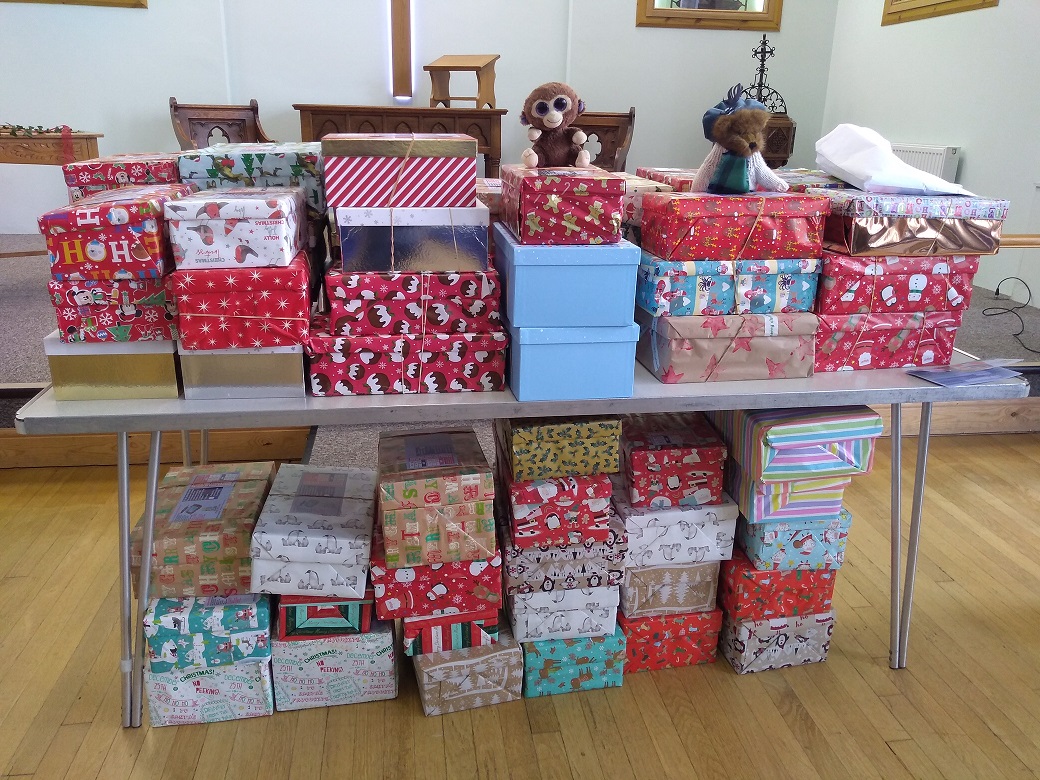 A huge thank you to everyone who prepared and dropped off boxes to The Beacon.
Seventy of these 'Love in a Box' boxes have been put together with such love, care and attention. They were blessed in our morning worship on Sunday 14 November and will soon be on their way to Romania.
They will certainly bring joy and a smile to the children who receive all the gifts inside them this Christmas!
Thanks to Kathy Wilmarsh for organising this.
Remembrance Sunday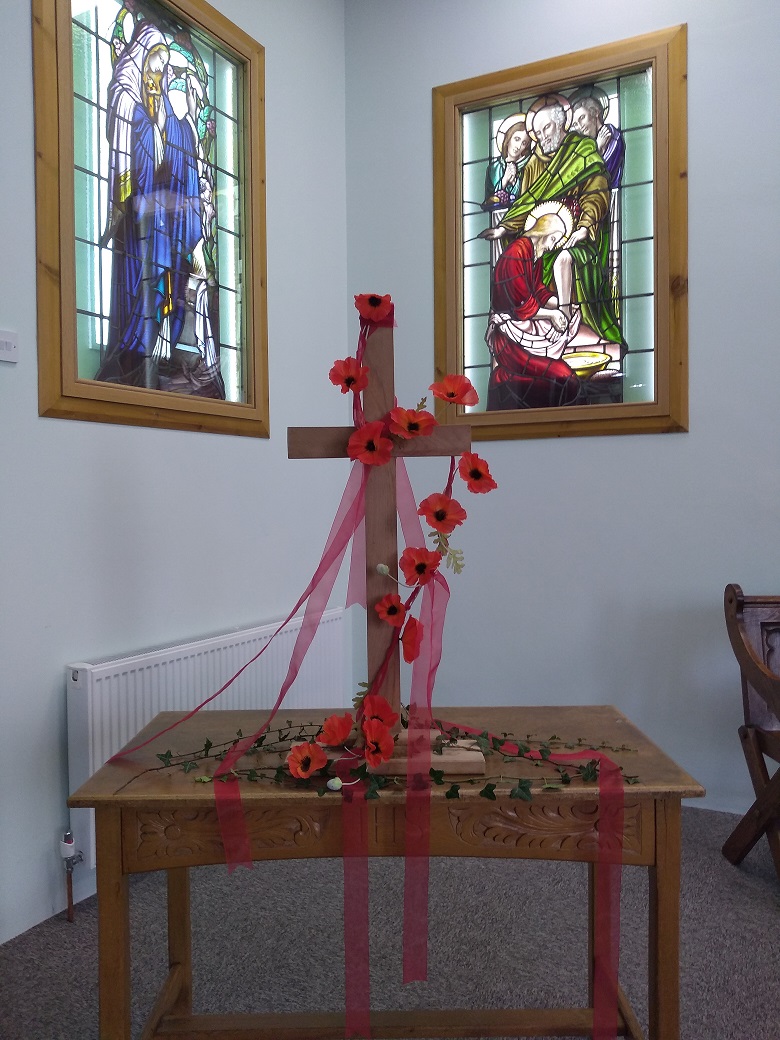 We joined with everyone else across the nation in remembering those who gave their lives in the two world wars and other conflicts when we met for worship on Remembrance Sunday.
Our service was led by Linda Beverton.
One of our members, Glenys Jeff, created this poppy design to lead our thinking on this very special day.
"We will remember them."
Walking with Amal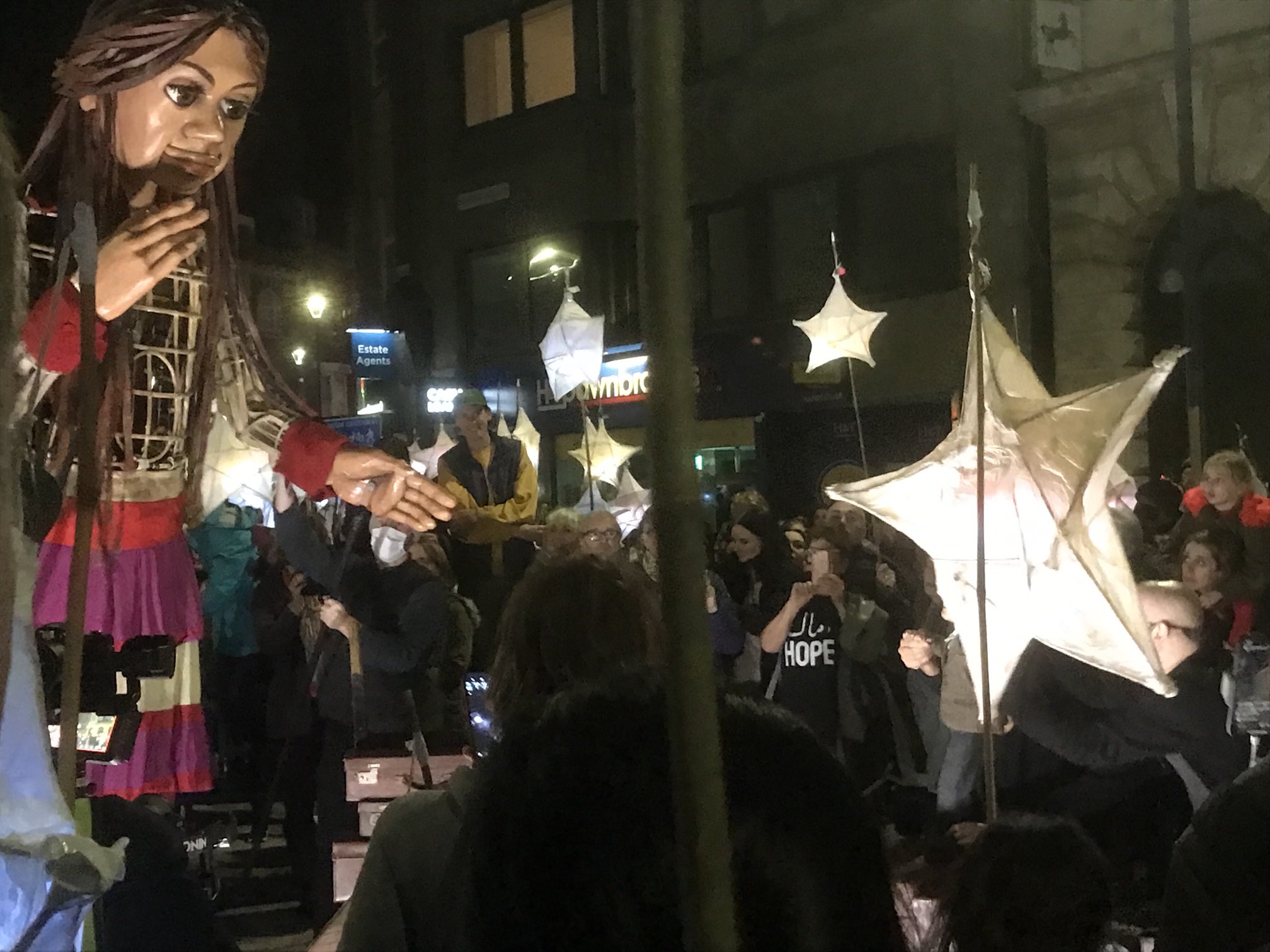 On Wednesday 20 October a number of our church members were among hundreds of people who gathered at Pencester Gardens to welcome Little Amal, a giant puppet travelling 8,000km in support of refugees.
The 3.5 metre-tall living artwork of a young Syrian refugee child has walked across Turkey, Greece, Italy, France, Switzerland, Germany, Belgium before arriving in the UK to focus attention on the urgent needs of young refugees.
People had attended workshops to makle 500 star lanterns which accompanied Amal on an extraordinary procession through the town to Dover Castle where a new lighthouse was created.
Our thanks to everyone involved.
Aching Arms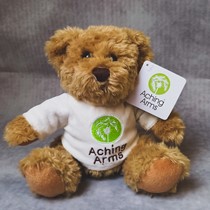 Valerie Bowes was grateful for all the support for her "Forget me not" tea party in aid of Aching Arms on Saturday 23 October in our church hall.
A good number of people turned up to enjoy the tea, try to guess the name of the teddy, estimate how many sweets there were in the jar, and buy items from the other stalls, as well as finding out more about Aching Arms, the baby loss bereavement charity.
Thanks to everyone who came along.
On Sunday 10 October we concentrated on Mental Health Sunday and the fact that so many people are now suffering from mental health issues. It is something many of us have experienced for the first time recently, and our Deacon Michelle Legumi encouraged us to be ready to talk to other people about it.
Sunday 26 September was our Harvest Festival and we were pleased to have Mrs Samm Morris leading our worship. We brought gifts of fresh and tinned food which are being shared with Emmaus, Food Bank and the Pantry.
Earlier in the year, before the church re-opened, we experienced a very different Holy Week, Easter and Pentecost.
During Holy Week, Deacon Michelle Legumi led a short time of prayer each evening, "walking" through some of the incidents that happened in the days leading up to Good Friday. She was using the Contemplative Tradition with readings, prayer, silence and deep listening to God. Our focus was to encounter God in the present moment and to think how we would have felt and what we would have done had we been there with Jesus at the time of his betrayal, trial and crucifixion.
Christians Together in Dover leaders provided a 'Virtual' Good Friday Walk of Witness this year. There were 10 stops along the route and at each stop a CTiD "Walk and Talk" was given by a local clergy or lay person. Each talked about a different key 'Easter Voice' from the Bible. The YouTube video of the walk also contains summary information about the key voluntary social outreach activities of CTiD including the Dover Foodbank, Dover Outreach Centre, Street Pastors, a money budgeting course, port chaplains' work, Songs of Praise in nursing homes, children's activities and holiday club, as well as practical help for vulnerable new mothers with babies.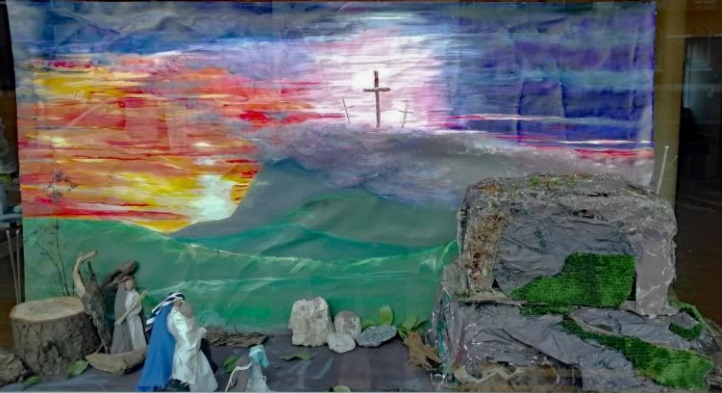 There was also an Easter Light Party, the Easter story for children told by puppets Rosie and Dexter, plus an activity pack of quizzes and crafts.
One of our members, Glenys Jeff, created an Easter scene in the window of Footprints @ The Beacon at 37 London Road, Dover CT17 0SS. The backdrop to it is pictured (right).
Opportunities to be together during the week …
As well as our Sunday morning services at The Beacon, we have a time of worship together on Zoom each Wednesday at 10am, followed by coffee and a chat - bring your own cuppa, and a biscuit if you want one, and join some friends for a natter!!
Our Zoom prayer meeting on Thursdays at 10am is an opportunity to gather and share together our thanksgivings and concerns and bring them to God in prayer. There is no demand on anyone to pray aloud – it is just a wonderful time to sit together in God's presence.
A message from the Rev Catherine Wagstaff
Taking inspiration from the Wesleys, I am passionate to share the message that the Good News of God's saving love is for everyone without exception – I long that all should know how precious and valuable that they are to God. God has no favourites; his unconditional love is there for all of us shown supremely to us in Jesus. I'm in danger of giving you a sermon now (!) but suffice to say that this Good News is what drives me and excites me. During the challenging times of the last few months my aim has been to keep folk connected with one another – after all fellowship, along with scripture, prayer and the sharing of Holy Communion, is a means of Grace as Wesley called it, striving for 'social holiness' where we share together of the things of God and pray for others as well as for one another – I believe it is the core of who we are as Christian people.
As Methodists we find meaning to our faith, seeking to live out what John Wesley saw as being fundamental, that all can be saved, by grace, through faith, to the uttermost. It's up to us to keep telling the story, discerning God's presence and offering God's abundant love to the world, wherever we are called to do so. I look forward to meeting with you, praying with you and working alongside you as we strive to move forward in mission and ministry together and continue to share the vision of God's Kingdom in this part of the world.
Dover is only my second appointment as a presbyter. I'm married to Philip who is the Superintendent minister in the Bexhill, Hastings and Rye circuit. In 1983 Phil and I went to Queen's College, Birmingham where Phil trained as a Methodist minister and I completed my local preacher training at last, having started in 1979! Twenty nine years later I was back at Queen's again, only this time I was the one doing the training! In the intervening years we have lived in a small Norfolk village near to Downham Market, followed by ten years in Harwich in Essex.
We moved to Okehampton in Devon in 2001, where my Mum lives and where I worked for 10 years as a Primary Special Educational Needs Co-ordinator, before candidating for the ministry. In 2014 I took up my first appointment in the Teignbridge circuit, looking after the churches in Teignmouth, Shaldon Bishopsteignton and Dawlish, and in 2016, the year I was ordained, Phil was asked to move to the South Petherton and Crewkerne Circuit in Somerset. Now we are excited to be serving in a new District and Circuits and looking forward to getting to know the folk from the churches that we serve!
Rev Catherine
And a message from Deacon Michelle Legumi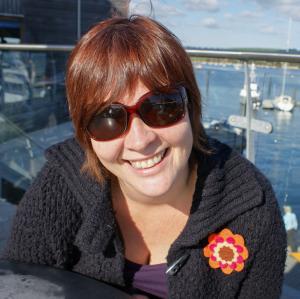 We are pleased that our church services have now resumed on Sunday mornings and we invite everyone to come and join us. We still have to adhere to the current restrictions, but we hope these will ease later.
We will post information on Footprints door and on the screen in Footprints reception - which you can see from the pavement outside - about Foodbank and other activcities as we safely continue to support some of the most vulnerable in our community.

Please get in touch if you need/would like support in any way including a friendly chat.
We can stay connected and care for one another.
Deacon Michelle
Click here for Amazing Grace, sung by people from 50 countries around the world affected by the coronavirus. Some of them have their faces hidden because they would be persecuted for professing their Christian faith.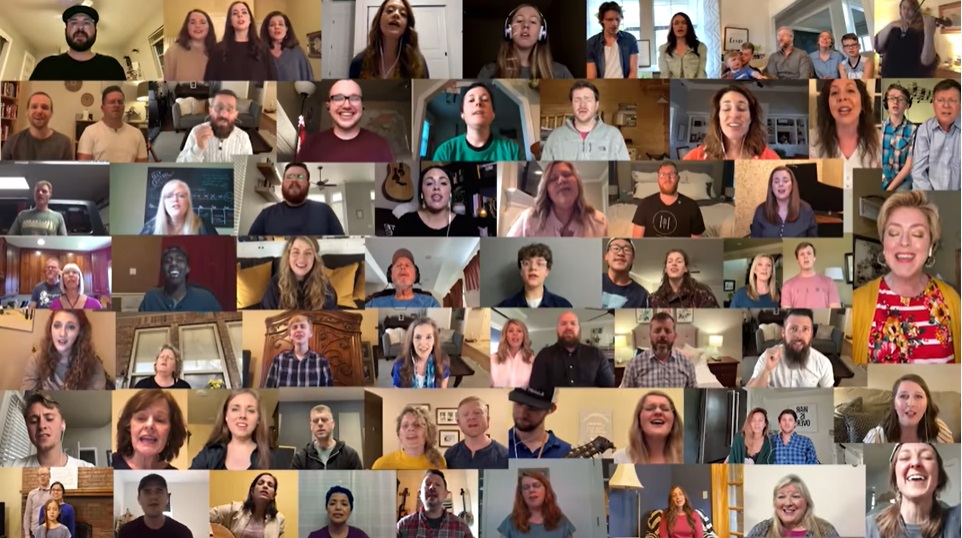 Jesus is worthy of our praise wherever we are, at home, at work, at school, in our villages, towns and cities, in the countryside, on our streets, in isolation, or meeting with small groups - everywhere. Here's a song about it,
We pray that God will bless you wherever you are.
You can atill take part in Methodist worship services on-line. Our Canterbury and East Kent Methodist Circuit has services based at St Peter's Methodist Church, Canterbury, which includes our Ministers and members, and there is also an audio service from the United Reformed Church.
Other on-line services include those at Wesley's Chapel in London, and Westminster Central Hall. Click on the church names.
You can share in worship at home - click here for details and to download the service sheet for this Sunday.
Would you like to know more about the Methodist way of life? Click here.
We've just celebrated our church anniversary and we enjoyed cakes - which reminded us that like the ingredients in a cake, we are all needed to make the Church what it is today.
Click here to read more.
Helping to clean up Dover
We were pleased to support the Great British September Clean last year by encouraging people to clean up Dover.
Litter pickers were busy during the two weeks taking part in the event.
Volunteers from the Beacon were among those who took part in a successful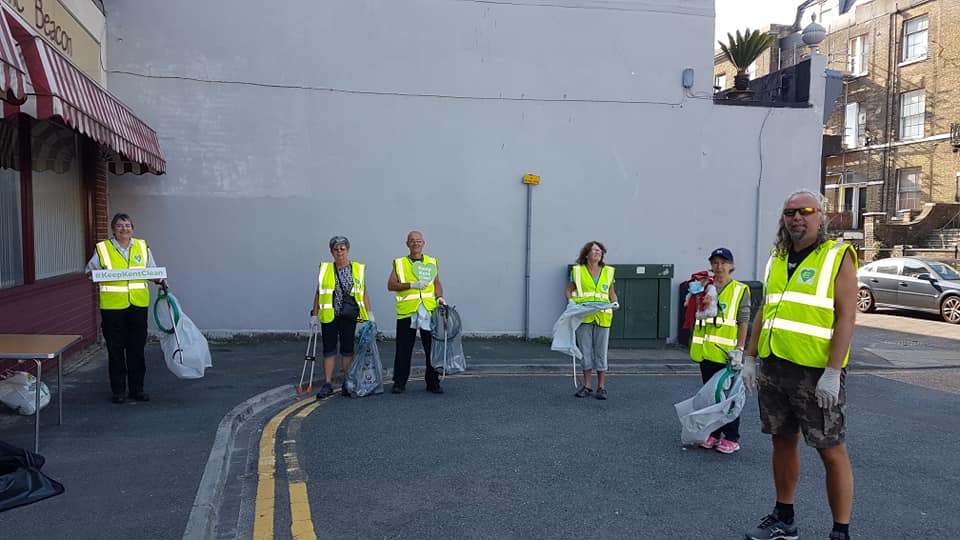 litterpick along London Road, organised by the London Road Community Forum.
They collected 21 bags of rubbish! Thank you to everyone who came along, and please help keep our streets FREE of litter! A week later, another volunteer collected more empty cans, sweet papers, an empty plastic sack and other items from outside our church.
During the week, someone dumped a bag full of soil outside our church in Bartholomew Street, and a few days later more items were dumped from the back of a car. The district council was notified and investigated both incidents.
Find out how you can help make a difference to your part of the community, at any time, by visiting keepbritaintidy.org
Action for Children
We have always been enthusiastic supporters of Action for Children and now, more than ever, the charity needs our support. So please visit their website by clicking here and seeing what you can do to help Action for Children look after some of the most vulnerable children in our country. There is a booklet with a service outline, a prayer bookmark and a link to a video about Lyle, one of the children their work has helped to support. If you need help at this crucial and difficult time, click here. Resources include the chance to chat one-to-one with someone online. You can also read their latest newsletter here and you can donate by clicking here.
Together 4 DOVER
The Beacon was one of the organisations which came together to provide support for people who
were in isolation and had no family or neighbours to help them during the covid 19 pandemic.
Together4DOVER (Covid 19 Support) was established by a core team of representatives from various local groups and organisations and operated under the umbrella of Dover Big Local.
They recruited a number of volunteers to do essential shopping and picking up prescriptions from local pharmacies, working with other support organisations, and referring residents to additional help where needed.
Working in conjunction with Dover District Council, they set up a single helpline phone number which people could ring if they needed help, but had no-one else to support them. As well as covering the whole of Dover – from Aycliffe to Buckland Estate and St Radigund's to Maxton – the organisation also covered surrounding villages.
When restrictions eased and shielding was no longer necessary for the vast majority of people, T4D decided to suspend the Helpline service at the end of July.
All their 'regular' callers were contacted to ensure as far as possible that they had the ongoing support they needed.
During subsequent lockdowns, Together4Dover was activated again, offering support to the residents of Dover and the surrounding area
with essential shopping requirements (paid for by the resident).
Harmony Holistic trained therapists are also available to offer free listening therapy for those who suffer with some of the consequences of Covid19, e.g. anxiety, stress, sleeplessness, gaining weight, feeling of abandonment and loss. Please call the helpline for a referral.
Thanks are expressed to every one of the amazing volunteers (more than 80 in total) for their sterling commitment, enthusiasm and caring approach during these difficult times.
As our Deacon Michelle explains: "T4D provided support for some of the most vulnerable people in our society. Some had lost their jobs, some struggled financially and some struggled for food. We were able to give away free food from local supermarkets which would otherwise have been thrown away. We also arranged hot meals to be delivered which were cooked by staff at the Dover Marina Hotel for free.
"It has been such a joy to work alongside others who wanted to work together for the sake of those people most in need within the Dover area.
"We arranged for clothes washing for people without washing machines or who could not get to a launderette, and we refered people for counselling who may have been suffering from stress, anxiety or loss during this difficult time.
"The support was temporary to help people until they could get back onto their feet. Some people were out of work for the first time; some had their own business but had lost most or all of their clients during the lockdown. Some people had no family or friends to do their weekly shopping. People are extremely grateful for the service we provided.
"God has brought people together and made this happen."
FOODBANK
Dover Foodbank had to close its distribution sessions both here at The Beacon, and at One Church at The Ark.
If you have a voucher, please phone 07870 361180. You will be asked for some of the information on your voucher, together with some other information in order for us to look at the possibility of getting food to you. Please be aware that we will NOT be able to deliver on the same day as you call us, and we will NOT be able to deliver on every day of the week.
Thank you for your understanding, patience and co-operation.
THE CHURCH / HALL is in Bartholomew Street, a turning off Beaconsfield Road (CT16 2LH)
FOOTPRINTS @ THE BEACON is in London Road, in the lay-by near the junction with Beaconsfield Road (CT17 0SS)

Weigh-Inn Christian coffee/book shop
The Weigh-Inn, at 17 Worthington Street, Dover, CT17 9AQ is open on Monday, Wednesday and Friday, 10am to 2pm, Tuesday and Thursday 2 to 4pm and Saturday 10am to 12 noon. You can also call 01304 207031 or mobile 07788 933835 for more details. E-mail: theweighinn@talktalk.net

Looking back ...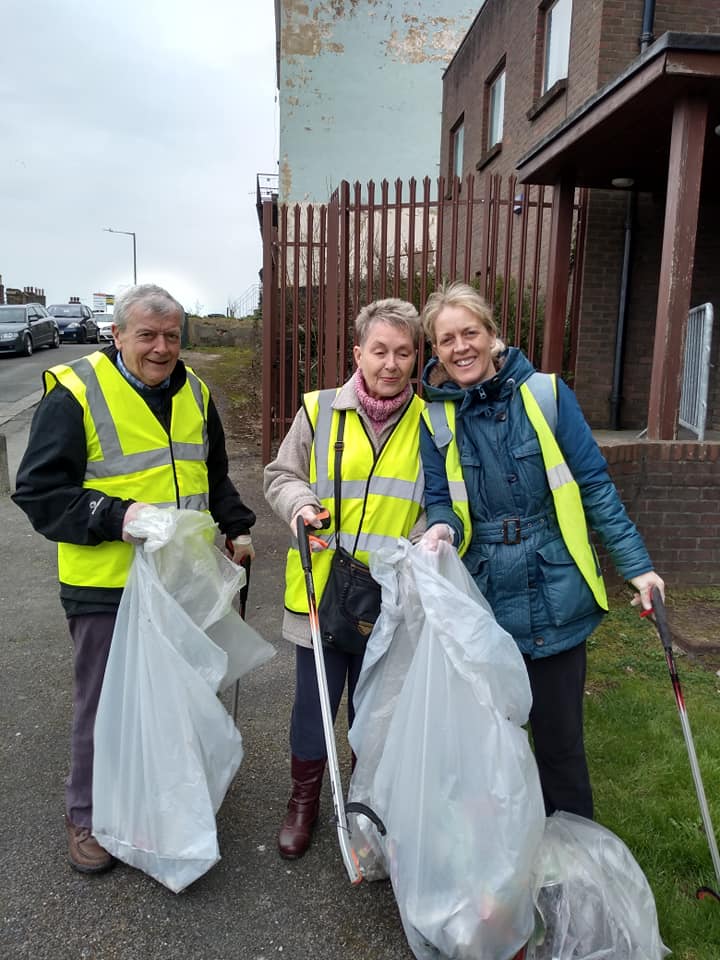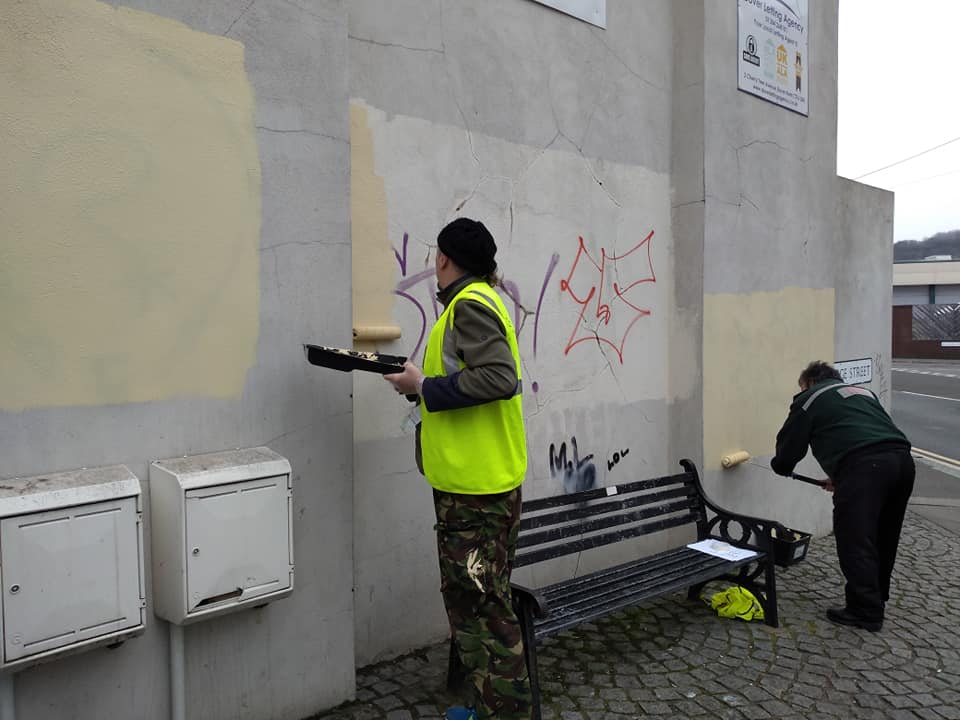 The Beacon is at the forefront of a campaign, led by Deacon Michelle, taking a pride in our environment, particularly in the London Road area of Dover.
We had a day of activities, working with local residents and tradespeople, in March to clear away litter, remove graffiti and generally make the area look more attractive. We are grateful to all those who took part, and we look forward to more sessions in the future.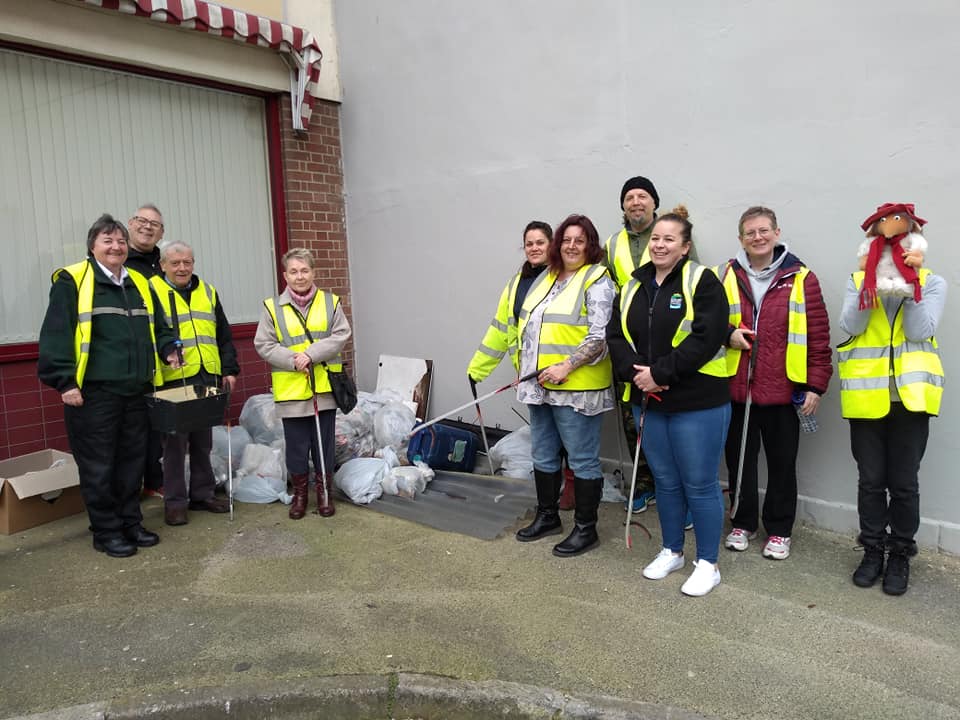 For previous news of that's been happening at The Beacon, please click on the appropriate year: 2020 2019