We are sorry that all of our activities including Sunday worship are not taking place at the moment.
We will post information on Footprints door and on the screen in Footprints reception - which you can see from the pavement outside - about Foodbank and other activcities as we safely continue to support some of the most vulnerable in our community.
We may not be meeting but we can stay connected and care for one another.
Jesus is worthy of our praise wherever we are, at home, at work, at school, in our villages, towns and cities, in the countryside, on our streets, in isolation, or meeting with small groups - everywhere. Here's a song about it,
You can take part in Methodist worship services on-line. Our Canterbury and East Kent Methodist Circuit is organising services based at St Peter's Methodist Church, Canterbury, which includes our Ministers and members, and there is also an audio service from the United Reformed Church.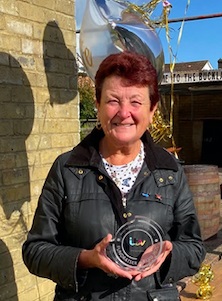 Congratulations Cessy!
Congratulations to our former London Road Methodist Girls' Choir member Cessy Crascall on being chosen as the ITV Meridian east region winner of the Pride of Britain awards for her amazing fund-raising achievements for the Demelza House children's hospice.
Cessy has raised £134,000 over the past 20 years. She will now go on to represent this region in the national finals.
She was judged to be the winner by Jordan Banjo and Perri Kiely from the dance troupe Diversity.
Helping to clean up Dover
We were pleased to support the Great British September Clean by encouraging people to clean up Dover.
Litter pickers were busy during the two weeks taking part in the event.
Volunteers from the Beacon were among those who took part in a successful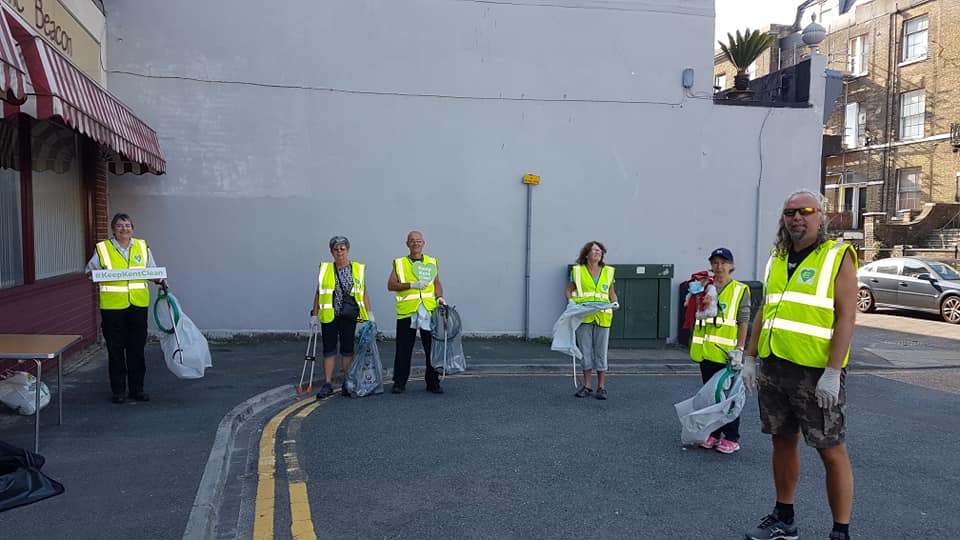 litterpick along London Road on Saturday 19 September. It was organised by the London Road Community Forum.
They collected 21 bags of rubbish! Thank you to everyone who came along, and please help keep our streets FREE of litter! A week later, another volunteer collected more empty cans, sweet papers, an empty plastic sack and other items from outside our church.
During the week, someone dumped a bag full of soil outside our church in Bartholomew Street, and a few days later more items were dumped from the back of a car. The district council have been notified and they are investigating both incidents.
Find out how you can help make a difference to your part of the community, at any time, by visiting keepbritaintidy.org
Dover on "Songs of Praise"
An item about asylum seekers and refugees being looked after in Dover was included in the BBC Songs of Praise programme on Sunday 11 October on BBC One. It is now available on the BBC iplayer here
Tell us your good news and send us your pictures
We would love to hear good news stories of how the community is working together, fun things you are doing, any pictures you have drawn/painted send them to us at the Beacon Church and Christian Centre, 37 London Road, Dover CT17 0SS or Bartholomew Street, Dover CT16 2LH.
In addition, if there is anyone/thing you would like us to pray for please message us(some of our church members in isolation would love to pray for you and we won't post these).
Blessings and peace from The Beacon Church and Footprints.
Walking all over cancer!
Victoria Beck has completed her challenge for Cancer Research, a charity which is very close to us all. She started at the beginning of June to complete 10,000 steps every day throughout the month. You can still support her by clicking here to make a donation. Thank you!
Action for Children
We have always been enthusiastic supporters of Action for Children and now, more than ever, the charity needs our support. So please visit their website by clicking here and seeing what you can do to help Action for Children look after some of the most vulnerable children in our country. There is a booklet with a service outline, a prayer bookmark and a link to a video about Lyle, one of the children their work has helped to support. If you need help at this crucial and difficult time, click here. Resources include the chance to chat one-to-one with someone online. You can also read their latest newsletter here and you can donate by clicking here.
Together 4 DOVER
The Beacon is one of the organisations which came together to provide support for people who
were in isolation and had no family or neighbours to help them during the covid 19 pandemic.
Together4DOVER (Covid 19 Support) was established by a core team of representatives from various local groups and organisations and operated under the umbrella of Dover Big Local.
They recruited a number of volunteers to do essential shopping and picking up prescriptions from local pharmacies, working with other support organisations, and referring residents to additional help where needed. .
Working in conjunction with Dover District Council, they set up a single helpline phone number which people could ring if they needed help, but had no-one else to support them. As well as covering the whole of Dover – from Aycliffe to Buckland Estate and St Radigund's to Maxton – the organisation also covered surrounding villages including Alkham, Capel, Eythorne, Elvington, Guston, Hougham, Kearsney, Lydden, River, Temple Ewell and Whitfield. People needing help can call KCC 24-hour helpline 03000 419292. Those needing urgent support please contact the DDC helpline 01304 821199.
Since restrictions have been gradually easing and shielding is longer be necessary for the vast majority of people, T4D decided to suspend the Helpline service at the end of July with all errands being completed by the following day.
All their 'regular' callers have been contacted to ensure as far as possible that they have the ongoing support they need. Together4Dover takes duty o
f care and responsibility very seriously and would not intentionally leave anyone unsupported.
Should you need help with errands, then the
NHS Volunteer Responders
service may be able to assist you. They can be reached on
0808 196 3382
(available 8am to 8pm).
However, the Harmony Therapy Trust volunteers will continue to provide counselling for any cancer patients or residents with life-altering illnesses. They can be contacted via their website -
www.theharmonytherapytrust.org.uk
It is planned to reinstate the T4D services should there be a second wave. Thanks are expressed to every one of the amazing volunteers for their sterling commitment, enthusiasm and caring approach during the last four months.
All of the volunteers, of which there were more than 80, have enabled so many people to get through this difficult and challenging time.
We are delighted that Dover District Council awarded a grant of £2,500 to help fund this vital work.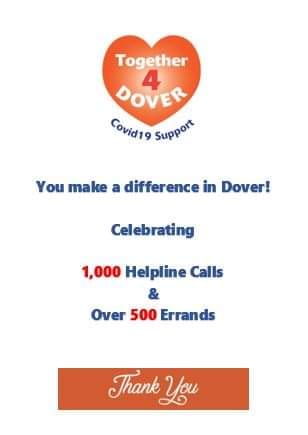 As our Deacon Michelle explains: "T4D provided support for some of the most vulnerable people in our society. Some had lost their jobs, some struggled financially and some struggled for food. We were able to give away free food from local supermarkets which would otherwise have been thrown away. We also arranged hot meals to be delivered which were cooked by staff at the Dover Marina Hotel for free.
"It has been such a joy to work alongside others who wanted to work together for the sake of those people most in need within the Dover area.
"We arranged for clothes washing for people without washing machines or who could not get to a launderette, and we refered people for counselling who may have been suffering from stress, anxiety or loss during this difficult time.
"The support was temporary to help people until they could get back onto their feet. Some people were out of work for the first time; some had their own business but had lost most or all of their clients during the lockdown. Some people had no family or friends to do their weekly shopping. People are extremely grateful for the service we provided.
"God has brought people together and made this happen."
Click here for their latest press release and photos, click here for their Facebook page, and their website is here.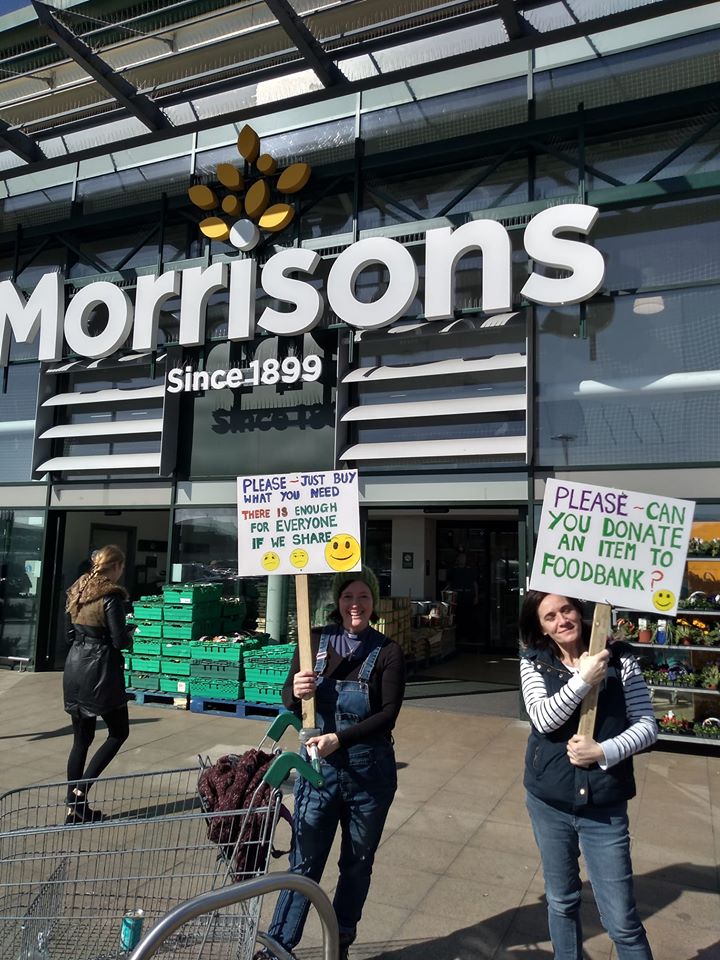 Representatives from the Beacon were outside our local supermarket, just before the lockdown, urging people to only buy the items they need and spreading the message that there is enough for everyone if we share.
Deacon Michelle Legumi and Cross-Links youth worker Rebecca Meredith were also asking people to donate items for the Dover Foodbank - and they were delighted with the response they received (see photos below).
Thank you to everyone who supported this appeal. Your donations made life a little easier for those who were most in need.
FOODBANK has also suspended its distribution sessions, including here at The Beacon.
Please see below for details of what you should do if you have Foodbank vouchers.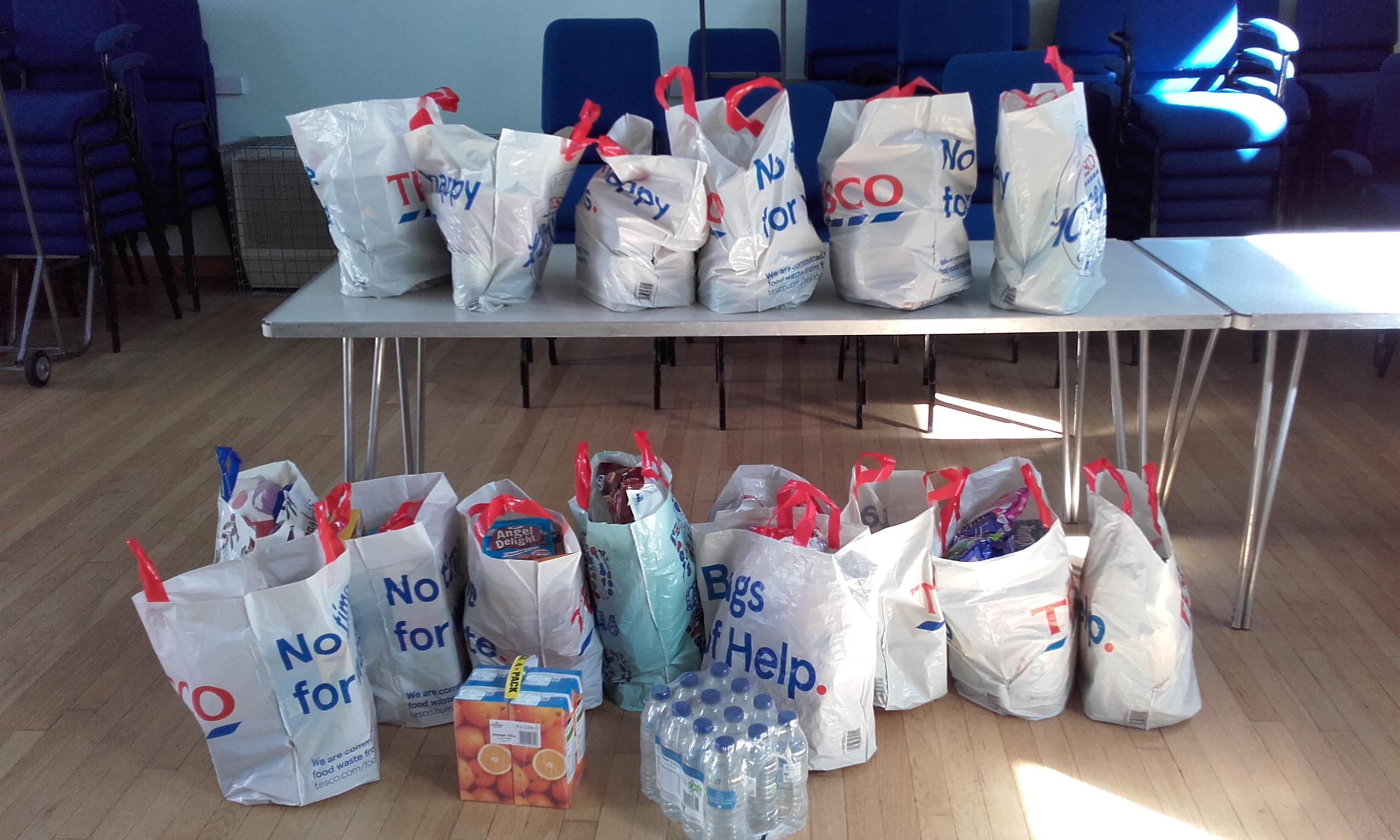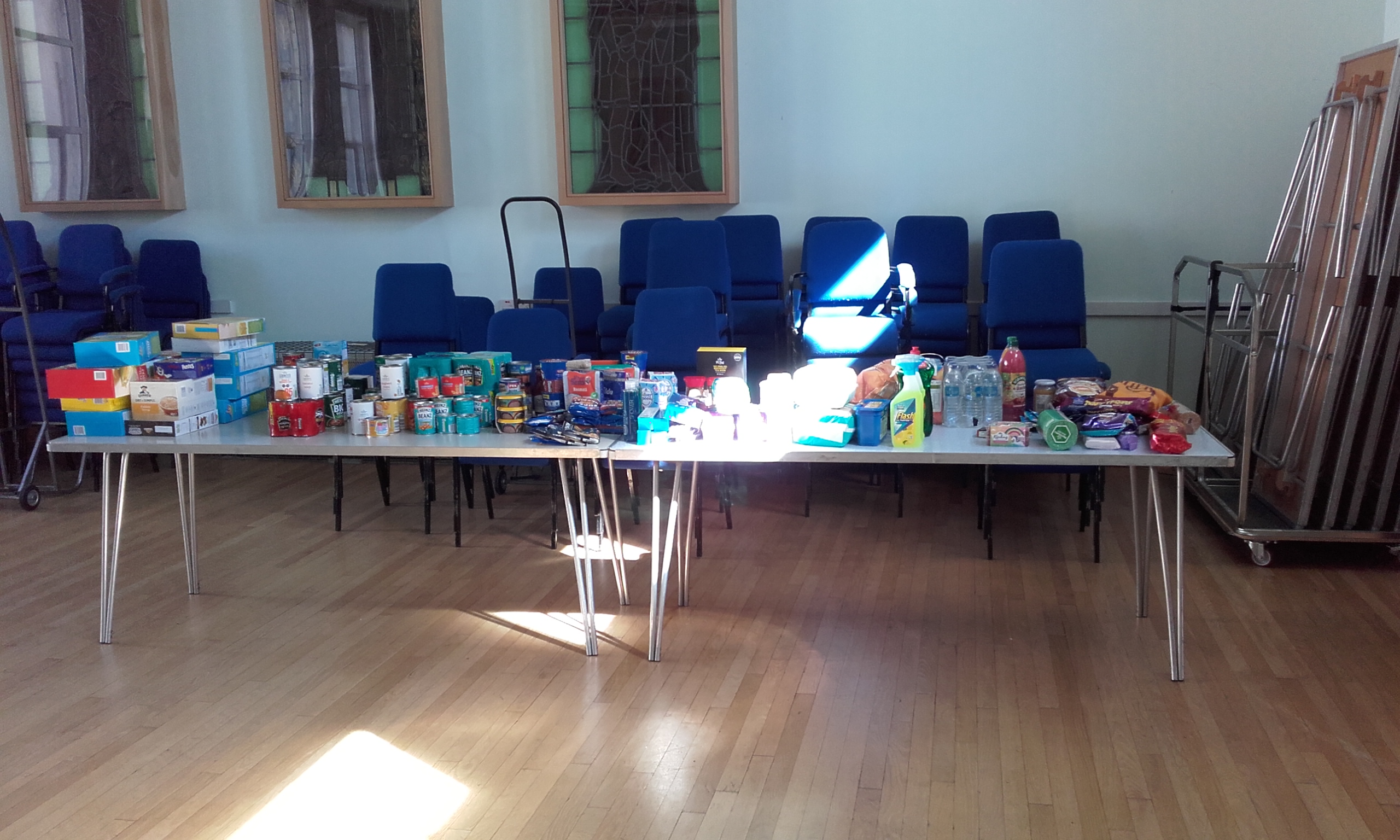 The bags (above) were the items that were donated for the Foodbank by customers outside Morrisons.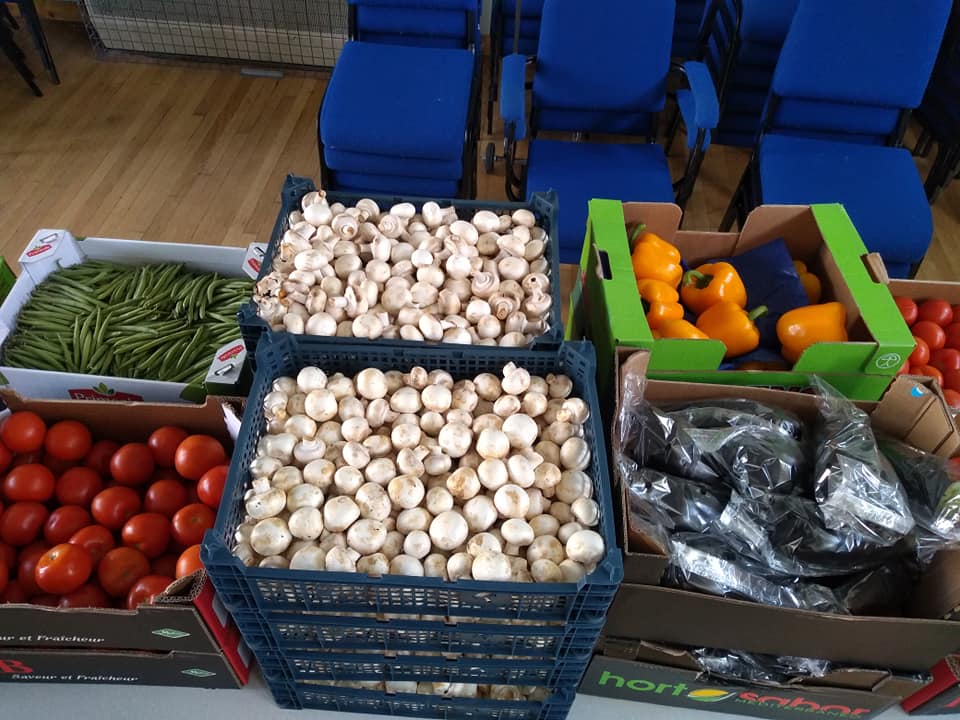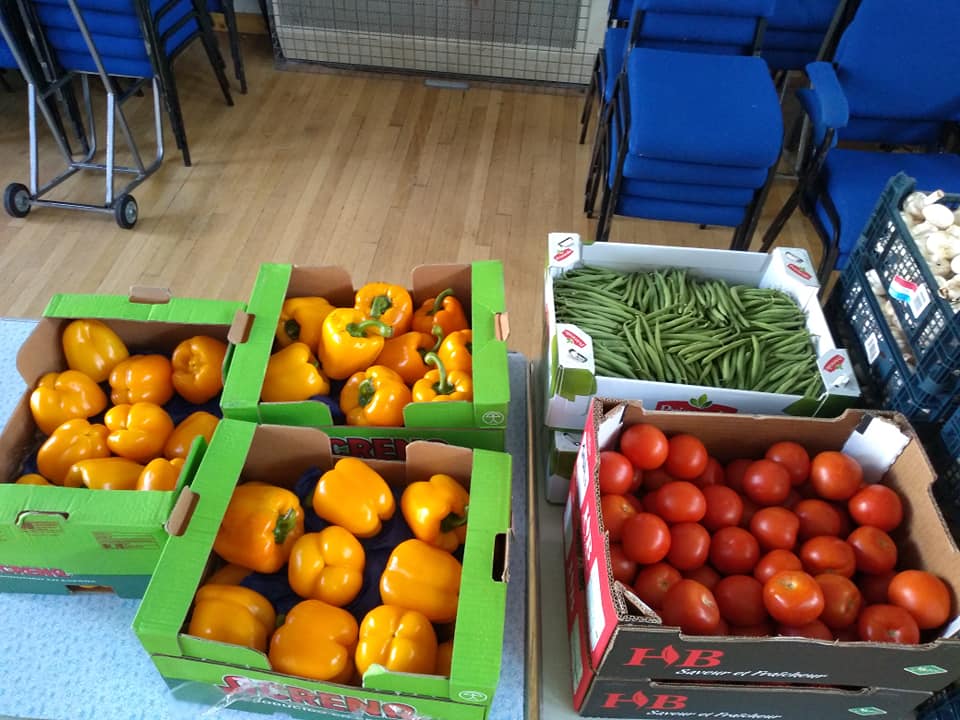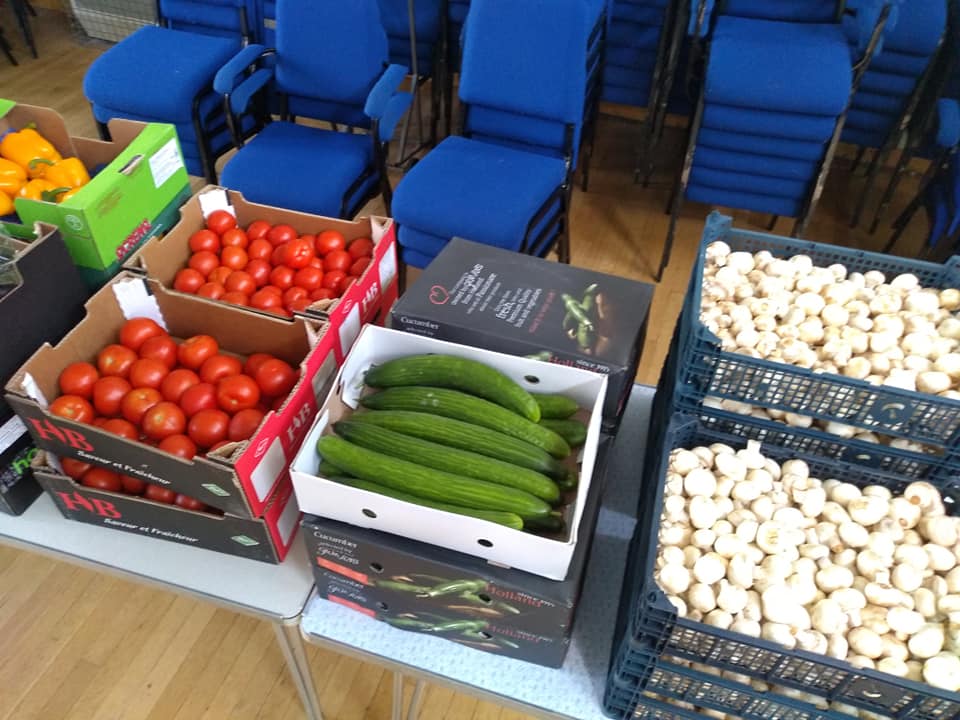 Thanks to Fred Olsen Cruise Lines who donated LOTS of tomatoes, peppers, cucumbers, green beans, mushrooms and aubergines (pictured above) which we were then able to give away to people in Dover who could use them. This was another excellent example of how we can all work together to help each other during this crisis.
FOODBANK
Because of the current situation regarding COVID-19, Dover Foodbank has had to close its distribution sessions both here at The Beacon, and at One Church at The Ark.
If you have a voucher, please phone 07870 361180. You will be asked for some of the information on your voucher, together with some other information in order for us to look at the possibility of getting food to you. Please be aware that we will NOT be able to deliver on the same day as you call us, and we will NOT be able to deliver on every day of the week.
Thank you for your understanding, patience and co-operation
A warm welcome will await you at our services and activities once they resume. Details can be found on this website.
THE CHURCH / HALL is in Bartholomew Street, a turning off Beaconsfield Road (CT16 2LH)
FOOTPRINTS @ THE BEACON is in London Road, in the lay-by near the junction with Beaconsfield Road (CT17 0SS)

When our services resume, you can use either entrance to access our church for Sunday morning worship, although the London Road doors are locked once the service begins.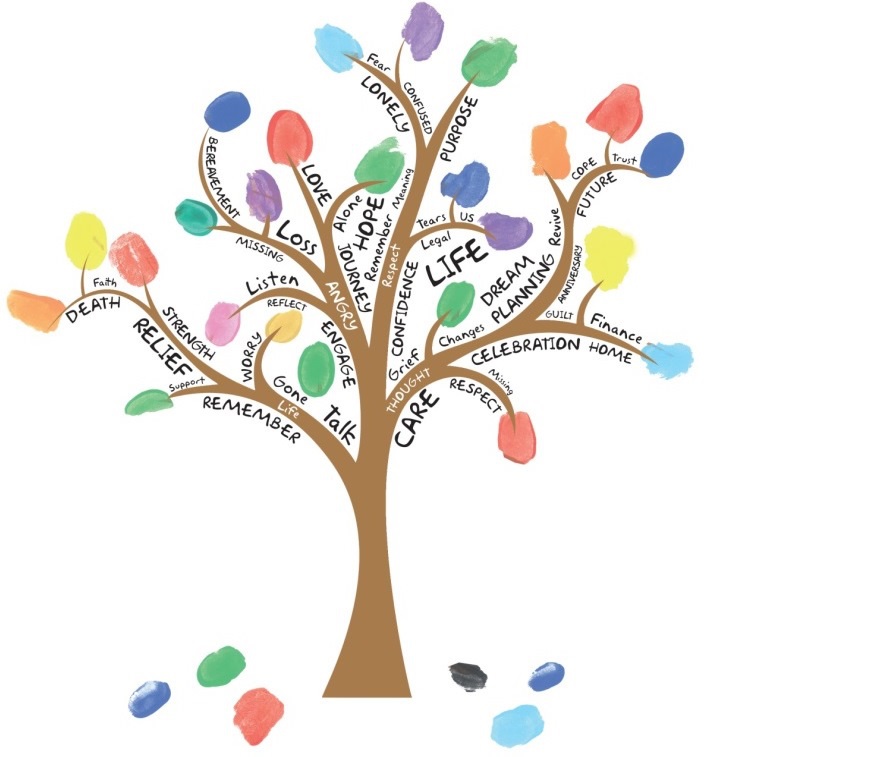 Bereavement Support Group
THESE MEETINGS ARE CURRENTLY SUSPENDED. Click on the Facebook Group link below to see the latest situation. Here are the details for when the group resumes.
If you're feeling sad, lonely or at a loss following a bereavement, come along and have a coffee and a chat in the crypt of St Peter and St Paul's, Charlton Church, in St Alphege Road, (off Frith Road) Dover CT16 2PU on the first Monday of each month from 7 to 8.30pm.
For further information call 07881 948459, email petra.kerr@gmail.com or click on the Facebook Group Moving With Grief
Weigh-Inn Christian coffee/book shop
The Weigh-Inn, at 17 Worthington Street, Dover, CT17 9AQ is open on Monday, Wednesday and Friday, 10am to 2pm, Tuesday and Thursday 2 to 4pm and Saturday 10am to 12 noon. You can also call 01304 207031 or mobile 07788 933835 for more details. E-mail: theweighinn@talktalk.net

Looking back ...
Children from Creative Church created their own Good Friday and Easter scenes from items they had in their homes. Here's one of Easter morning. You can see some of the others on the
Creative Church
page.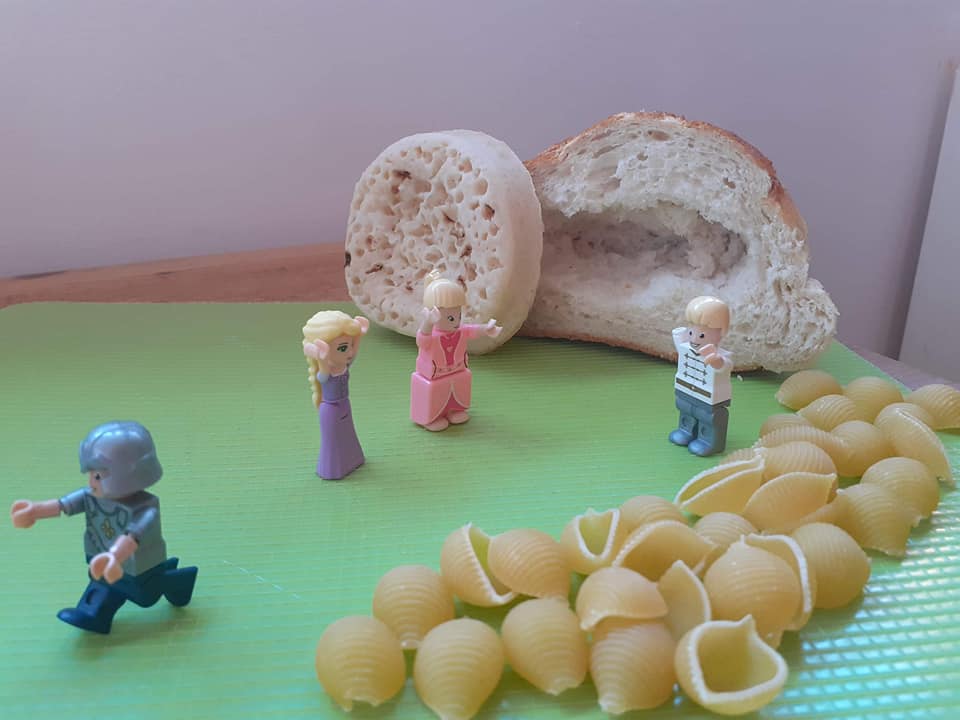 During Lent we used Finding a Voice, an original course by Hilary Brand, for our series of study sessions.Taking the film The King's Speech as a starting point, the course explored the ways in which fear holds us back, and examines how we, like King George VI, can face and overcome our fears and begin to find our authentic voice. Each session included an extract from the film, group discussion, questions and a meditation.
The Beacon is one of the churches in Dover which welcomed people who had nowhere to live or sleep during the winter months. The
Night Shelter
project, organised by
Dover Outreach Centre
, has become vital for those who would otherwise be faced with very cold conditions outside. One night a week, they were able to come and have a hot meal and a warm night in our church, followed by breakfast, and the same facilities were provided at other churches in Dover throughout the week to ensure there was somewhere to stay seven nights a week from December to February. Last year around 30 people a night were accommodated at the night shelter. We are grateful to the volunteers who gave up their time to run this project.
We were delighted to welcome the Rev Dr David Hinchliffe, chair of the Methodist South East District, to lead our worship on Sunday 23 February. He spoke to us about the transfiguration, and urged us to listen to God talking to us, and to respond to what He has to say.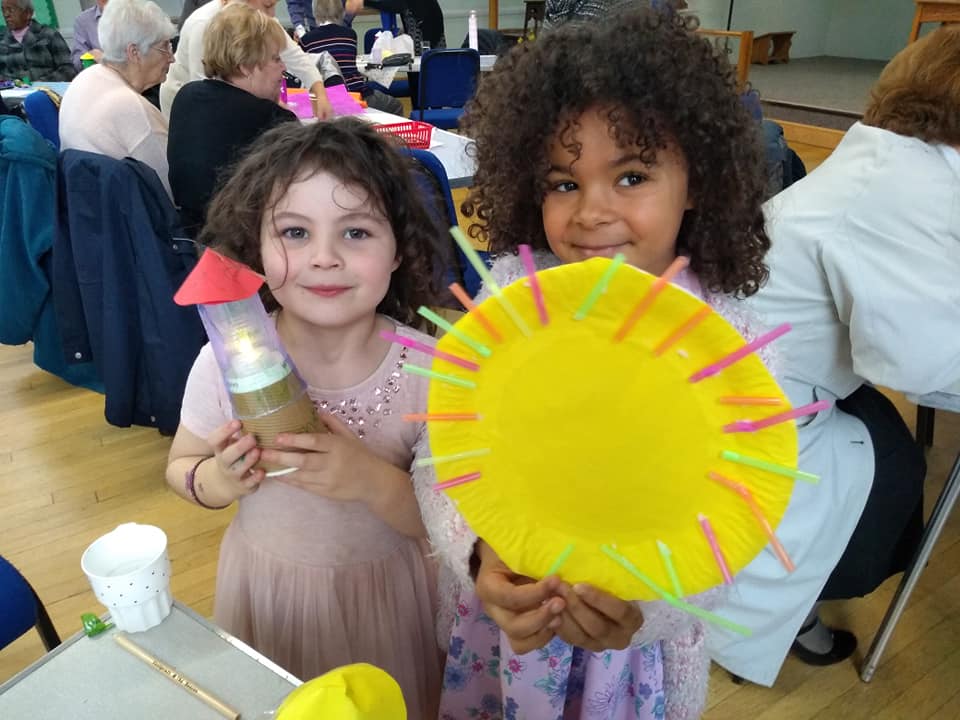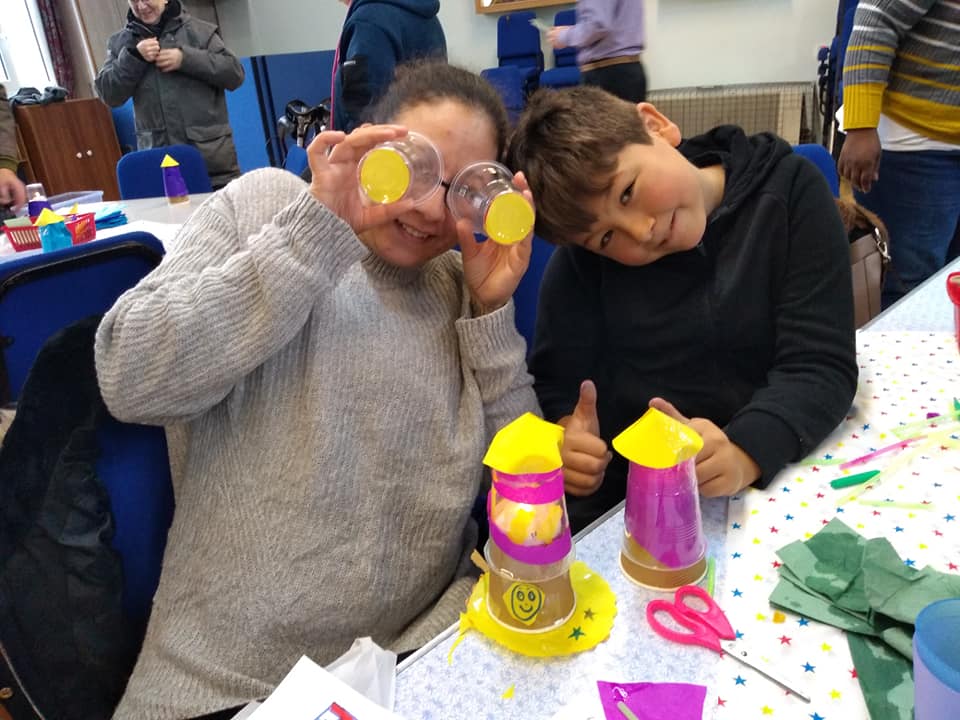 At our Café Church service in April we talked about Trust and in February we took Growth as the theme, looking at both personal growth and spiritual growth.
In January we explored what light means to us and how we need it in our lives, in our community and in the world. We remembered that Jesus is the Light of the World and provides enough light for all of us to live in.
We made lighthouses, and other items that reminded us of light, including torches and the sun.
The Week of Prayer for Christian Unity took place in January with special services, an Agape meal and a series of coffee mornings organised by the various churches in Dover. It was organised by Christians Together in Dover.
We started our year with the annual Covenant Service which is always a very meaningful and important service for Christians.
We had a very special time at Christmas, starting with our Nativity Service which included a play by
Creative Church called "Stable Memories". This took a fresh look at the first Christmas Day, being set on Jesus's first birthday, with the Angels, Shepherds and Wise Men all coming to wish him a happy birthday, and remembering what had happened the year before when they saw him in the stable in Bethlehem.
Our Candlelight Carol Service was well attended by people who enjoyed singing many of our favourite carols and listening to traditional and contemporary readings reminding us of the true meaning of Christmas, why Jesus came and the opportunities it gives us to show God's love to others.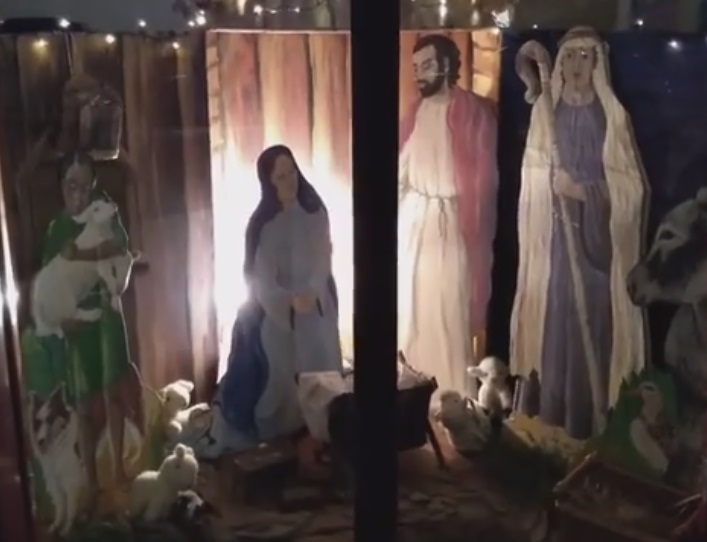 On Christmas Day Deacon Michelle led our family service when we thought about the Light that came into the world when Jesus was born, and - with the aid of glow sticks - we recalled how sometimes we have to be broken to see that Light, and how He comes into broken situations.
We are grateful to Glenys and Paul Jeff for creating this beautiful Nativity Scene in the entrance to Footprints. Click here to watch a video of it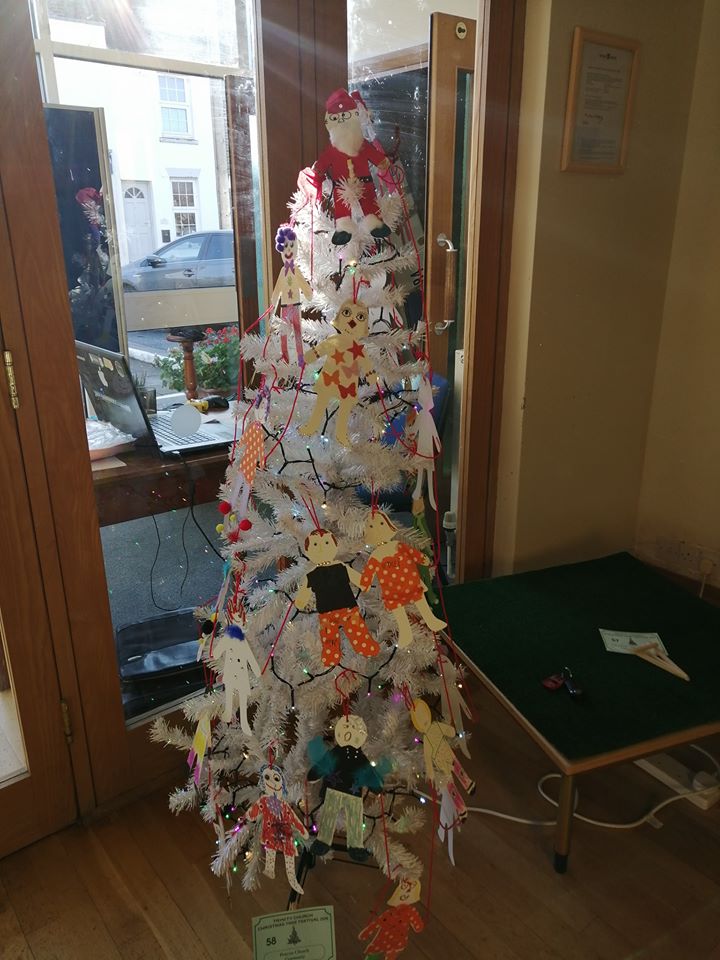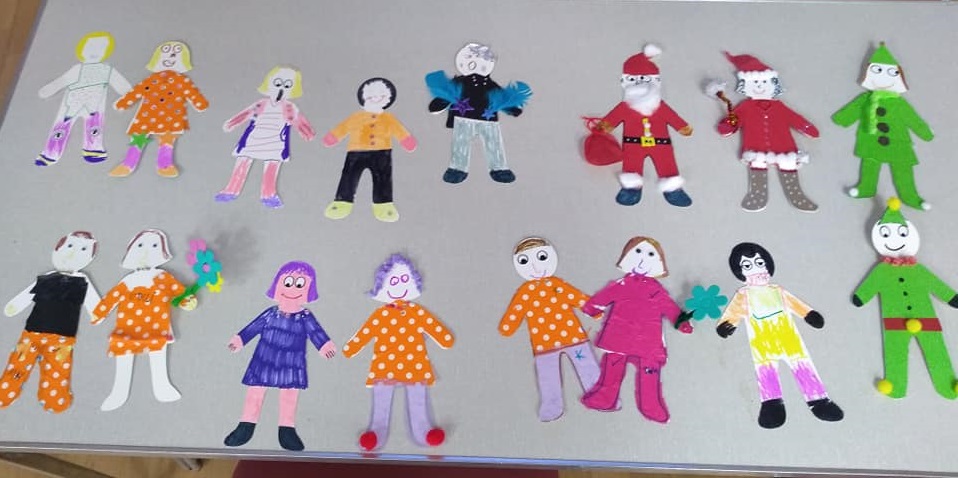 Our friends at Trinity Church, Deal, held a Christmas Tree Festival in early December with a range of interesting and ingenious trees on display.
We at the Beacon submitted a "Community Tree" (pictured left). Our Toddlers and Craft groups created people for the tree.
Why not come along to our Toddlers Group (Thursdays) and Family Craft Group (Saturdays) and join in the various activities that are organised. We look forward to seeing you.
We were pleased to welcome two pilgrims who called in at Footprints on Sunday 1 December. They had walked from Italy and were on their way to London, calling in at Canterbury Cathedral on their way. People attending the Community Lunch had an interesting chat with them.
Thanks to all our members, and others connected with our church, who supported the Love In A Box project and brought more than 40 boxes filled with goodies to send to children in other countries who would not otherwise receive any gifts at Christmas. To learn more about this project, watch this very moving video here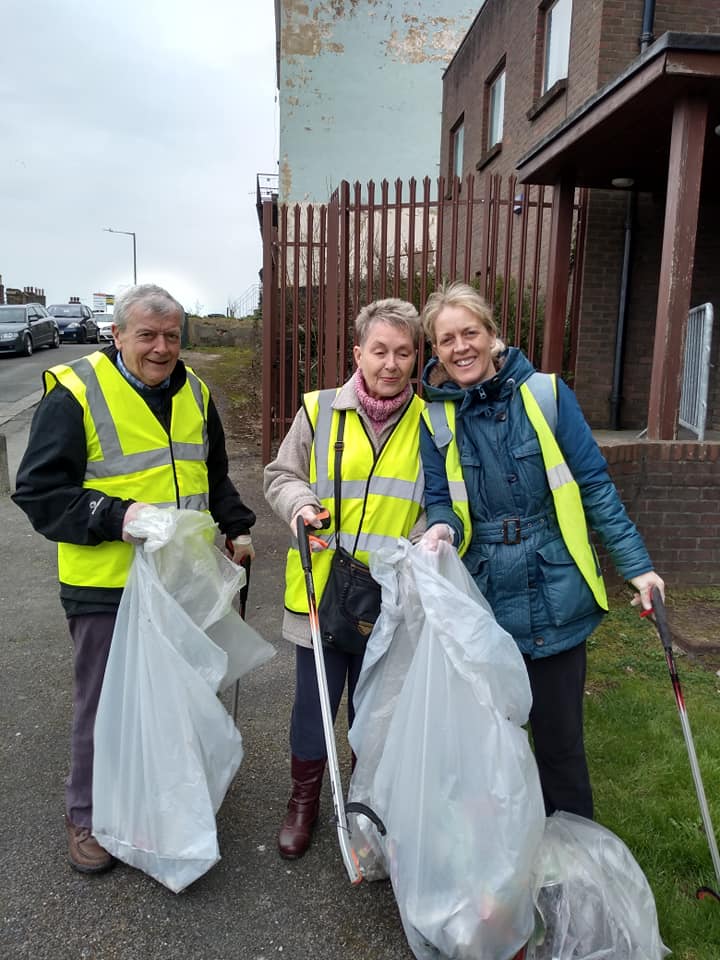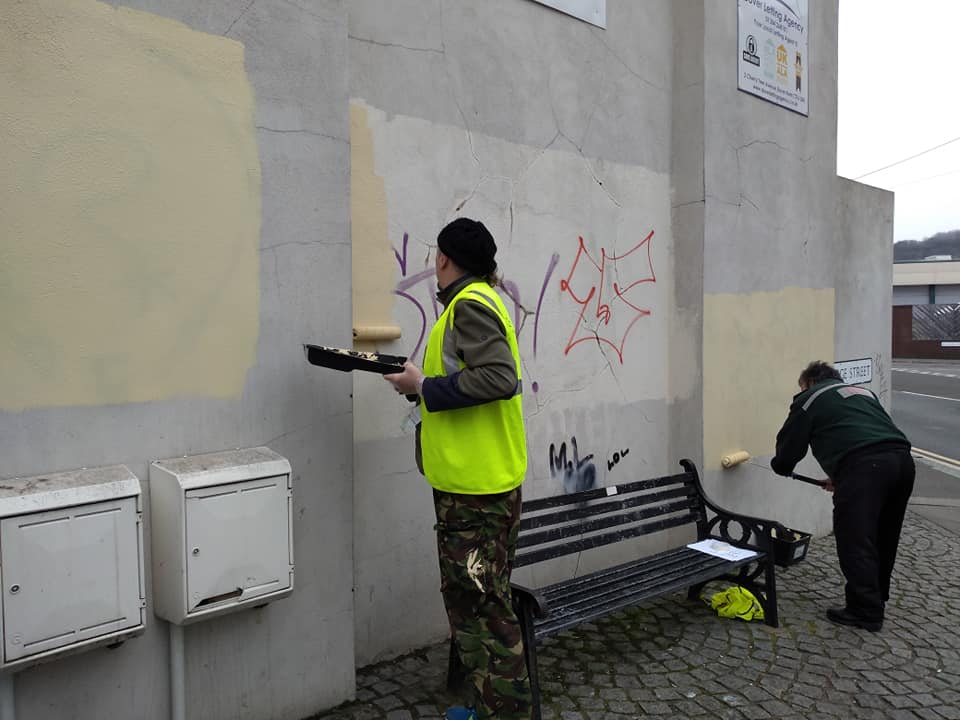 The Beacon is at the forefront of a campaign, led by Deacon Michelle, taking a pride in our environment, particularly in the London Road area of Dover.
We had a day of activities, working with local residents and tradespeople, in March to clear away litter, remove graffiti and generally make the area look more attractive. We are grateful to all those who took part, and we look forward to more sessions in the future.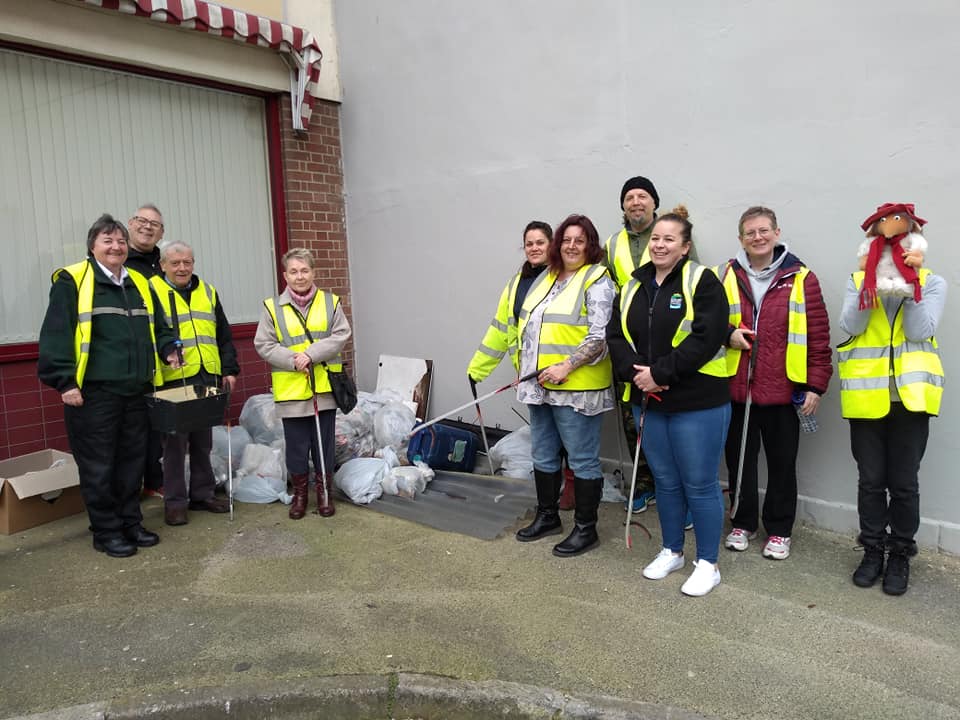 For previous news of that's been happening at The Beacon, please click on the appropriate year: 2019